Chronic rhinosinusitis and rhinitis and asthma – the connection explained
Chronic rhinosinusitis and rhinitis and asthma – the connection explained
Facts | 14/12/2022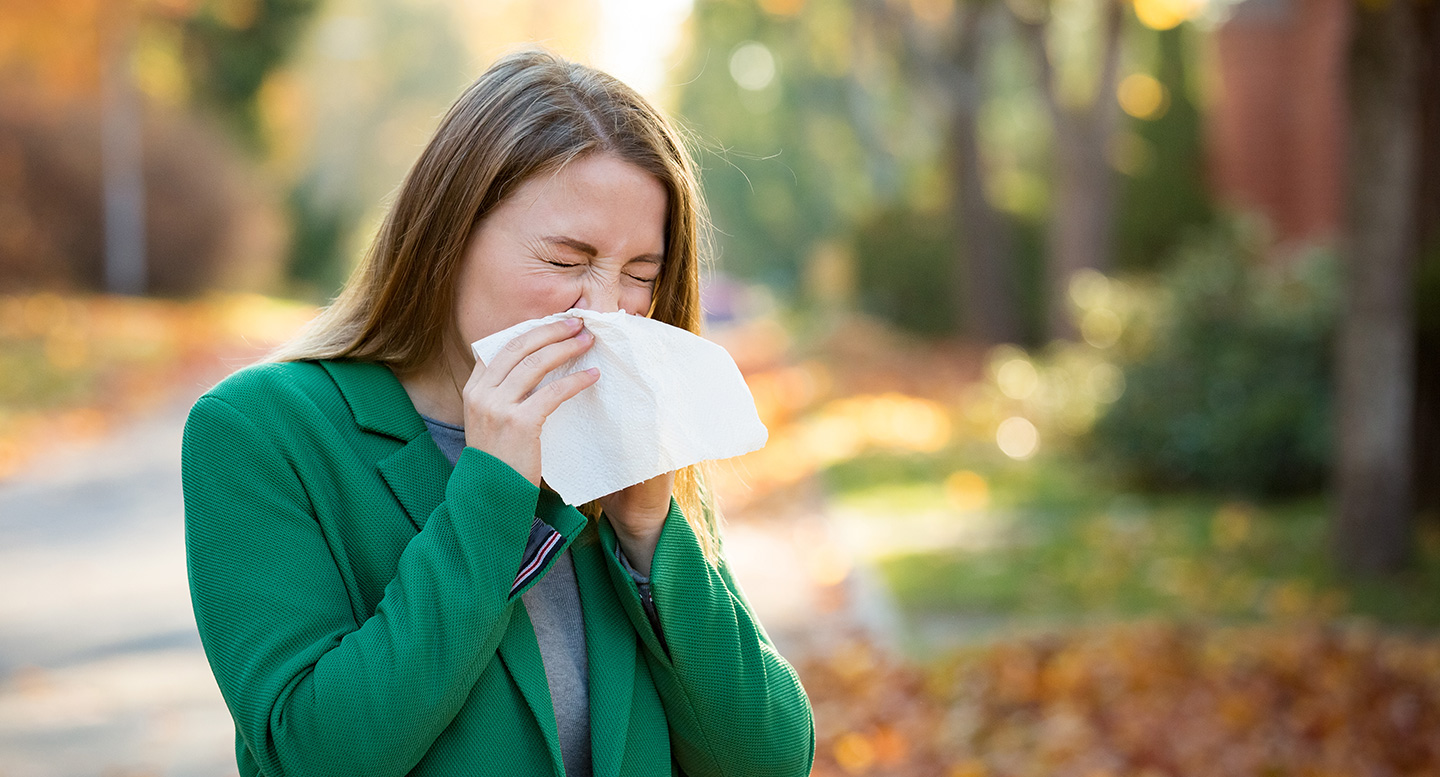 Chronic rhinosinusitis and rhinitis can worsen asthma symptoms and vice versa. An accurate diagnosis will lead to effective treatment.
While asthma affects the lungs, the disease is strongly connected with chronic rhinosinusitis (CRS) and rhinitis that occur in the upper airways. Rhinitis symptoms include congestion, sneezing, and obstruction. CRS symptoms include additionally facial pain/pressure, loss of sense of smell, postnasal drip, hoarseness, mucus in the throat, and cough. The main subtypes of CRS are CRS with nasal polyps (CRSwNP) and without (CRSsNP). The main subtypes of rhinitis are allergic rhinitis (AR) and non-allergic NAR.
Like asthma, rhinitis, or CRS, is also caused by inflammation, and it can make asthma symptoms worse – and the other way around. That's why they should be treated, says Tanja Törölä, Pulmonary Diseases and Allergology Specialist at the Skin and Allergy Hospital in Helsinki.
The upper and lower airways are anatomically, immunologically, and neurologically connected to the lower airways which include the lungs, but scientists are unsure how asthma causes rhinitis symptoms.
"There is a lack of good medical research because the subject is hard to study. We do know though that around 80 per cent of all adult asthma patients have some sort of chronic rhinitis, and about half of them have had their first allergic rhinitis already during childhood, says Sanna Toppila-Salmi, Senior Consultant Otorhinolaryngologist at Helsinki University Hospital. The overlap between asthma and CRS is about 50 per cent.

CRS and/or rhinitis should be looked into
It is normal for adults to catch a common cold around three times per year, while children can have flu symptoms even ten times every year. If an adult gets acute rhinitis more frequently with symptoms in between, it should be looked into by a physician.
NAR and CRS diagnosis is based on typical symptoms lasting more than 12 weeks as well as findings from the nasal cavity. AR is diagnosed by typical symptoms due to allergen contact and IgE mediated allergen sensitization. A nasal endoscopy is usually needed to confirm the diagnosis of CRSsNP or CRSwNP.


Correct diagnosis is essential
Rhinitis can be allergic, and that's when the condition is triggered by allergens such as pollens, animals, or house dust. The symptoms typically include sneezing and itching of the eyes or skin.
People who have one type of allergy are often sensitized to other allergens. Cross-reactivity to fruits and vegetables such as kiwis or tomatoes is also common, but usually not dangerous.
Toppila-Salmi says that patients with AR are also three times more likely to develop asthma than those without.
"It is very important to examine the patient thoroughly and run basic allergy tests. The patient has the right to know their risk of developing other diseases, and any inherited factors."
When the allergic rhinitis patient has asthma, allergy medications are prescribed in addition to their regular treatment. Asthma medication such as inhaled steroids, which opens the swollen airways, can be increased during the allergy season, or as needed.
"People with asthma can sometimes have more symptoms and sometimes less, and the medication should be adjusted. Even if the condition gets better, we recommend that patients use medication all year round because it's easy to get used to the symptoms. Good therapeutic balance is key," says Törölä.


How can CRS or NAR or AR be managed?
Nasal corticosteroid spray can be used if needed and prescribed by a physician.
Nasal irrigation by salt water.
Exacerbations may be treated with short term decongestants and antibiotics.
Sinus surgery can be considered in some CRS cases, if maximum medical therapy is not sufficient for symptom control.
Allergic rhinitis is managed with antihistamine tablets. Allergic eye symptoms are treated with antihistamine or sodium chloride eye drops.
References:
Hellings PW, Prokopakis EP. Global airway disease beyond allergy. Curr Allergy Asthma Rep. 2010 Mar;10(2):143-9. doi: 10.1007/s11882-010-0107-1. PMID: 20425506. https://pubmed.ncbi.nlm.nih.gov/20425506/
Text by Laura Iisalo
Photo by Adobe Stock
Date of preparation: January 2023 / EASYH-2856
If you get any side effects, talk to your doctor, pharmacist or nurse. This includes any possible side effects not listed in the package leaflet. You can also report side effects directly via the Health Products Regulatory Authority (HPRA) website: www.hpra.ie or email medsafety@hpra.ie
Orion invests in research and development of treatment options for people with asthma and COPD while also developing the design and usability of the Easyhaler® inhaler device platform. The focus is on safety and quality in each step of the product life cycle while taking care of the environment. All aspects of sustainability - social, economic and environmental - are carefully considered in the whole product life cycle. Sustainability is entwined in the whole process from R&D through manufacturing, including patient use and the disposal of old inhalers.