Back to home
Switching asthma and COPD patients to Fobumix Easyhaler® (budesonide /formoterol fumarate dihydrate) leads to improved clinical outcomes and quality of life in real-world clinical practice1
Insights | 17/11/2021
Prescribing information for the Easyhaler® range is available here.
STUDY SUMMARY

Clinical effectiveness and patient satisfaction were evaluated among 961 adult asthma and chronic obstructive pulmonary disease (COPD) patients switching from a metered dose inhaler (MDI) to Fobumix Easyhaler® in a real-world, multicentre study.
Switching from MDI, Turbohaler®, Accuhaler®, Respimat® or Breezhaler® to Fobumix Easyhaler® resulted in significant improvement in symptoms and disease control, lung function, and health-related quality of life.
Both asthma and COPD patients were significantly more satisfied with Easyhaler® compared to their previous inhalers (P<0.0001).
Despite well-established treatment guidelines and a wide range of inhaled therapies and inhaler devices available, many asthma and COPD patients continue suffering from poor disease control and associated symptoms with a considerable burden on quality of life. Further real-world studies are required to compare different inhalers regarding the ease of learning, ease of use, patient satisfaction, and clinical effectiveness. In the present post hoc sub analysis of a previously reported Hungarian real-world, multicentre study2, the effectiveness of switching to Fobumix Easyhaler® was assessed in asthma and COPD patients in everyday clinical practice.
The post hoc analysis was conducted on a subgroup of adult patients with asthma (N=398) or COPD (N=563) who switched to Fobumix Easyhaler® in a real-world setting. For asthmatic patients, the most common previously used inhalers (used by ≥10% of patients) were MDI, Symbicort Turbohaler®, and Accuhaler®, whereas Respimat®, Turbohaler®, MDI, Breezhaler®, and Accuhaler® were most commonly used among COPD patients.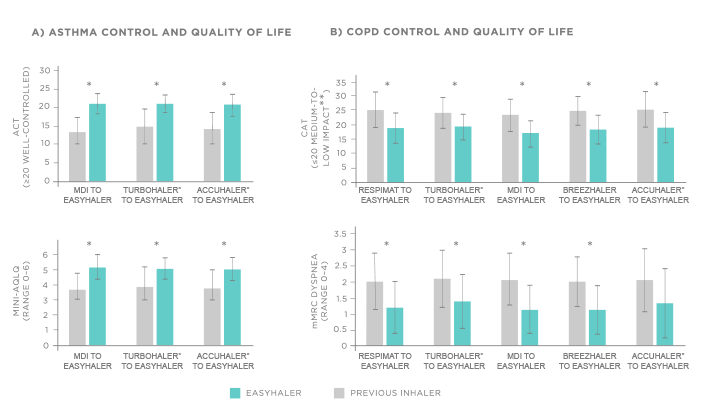 Figure 1. Switching from MDI, Turbohaler®, Accuhaler®, Respimat® or Breezhaler® to Fobumix Easyhaler® significantly improves symptoms, disease control and health-related quality of life among adult patients with asthma (A) or COPD (B). N=398 patients with asthma and 563 with COPD. Comparison to the inhalers most commonly used previously (used by ≥10% of patients). Patients received 12 weeks of Fobumix Easyhaler therapy. *P<0.0001 for average ACT, CAT, mini-AQLQ, and mMRC score. **Impact of COPD symptoms on everyday life.
The primary endpoint was to evaluate patient-reported symptoms, disease control and health-related quality of life, which were measured by Asthma Control Test (ACT) and mini-asthma Quality of Life Questionnaire (mini-AQLQ) among asthma patients, or COPD Assessment Test (CAT) and modified Medical Research Council dyspnea scale (mMRC) in patients with COPD. As a secondary endpoint, lung function and patient satisfaction with their inhaler were assessed with spirometry and usage questionnaires, respectively. The baseline assessments and switch to Fobumix Easyhaler® were performed at the first healthcare visit and the outcomes were evaluated after 12 weeks of Fobumix Easyhaler® therapy.
Switching to Fobumix Easyhaler® led to significant improvements in asthma and COPD control, lung function, and health-related quality of life, regardless of the previous inhaler type (P<0.0001, comparison to most common previous inhalers, Figure 1). The proportion of patients with well-controlled asthma increased from 13% to 78% during the 12 weeks of Easyhaler® therapy, whereas the proportion of COPD patients experiencing only a medium-to-low disease impact increased from 24% to 68%. Furthermore, patient satisfaction was significantly greater with Fobumix Easyhaler® in comparison to previous inhalers (P<0.0001). Fobumix Easyhaler® was rated very good or good by 82%–86% of patients with asthma and 58–72% of patients with COPD, compared to 11–18% and 9–23% for the most commonly used previous inhalers, respectively.
In conclusion, the results indicate that asthma and COPD patients achieved clinical benefits when switched to Fobumix Easyhaler therapy. The study conclusion provides both clinicians and patients further support when considering switching as an appropriate and possibly beneficial treatment option.

*This article refers to UK brand names. Within the clinical papers, the brand names reflect the location of where the studies took place.
References:
Gálffy G, Szilasi M, Tamási L. Effectiveness and patient satisfaction with budesonide/formoterol Easyhaler® among patients with asthma or COPD switching from previous treatment: a real-world study of patient-reported outcomes. Pulm Ther 2019.
Tamási L, Szilasi M, Gálffy G. Clinical Effectiveness of Budesonide/Formoterol Fumarate Easyhaler® for Patients with Poorly Controlled Obstructive Airway Disease: a Real-World Study of Patient-Reported Outcomes. Adv Ther. 2018 Aug;35(8):1140-1152.
Date of preparation: November 2021 / RESP-330bdd(1)
Orion invests in research and development of treatment options for people with asthma and COPD while also developing the design and usability of the Easyhaler® inhaler device platform. The focus is on safety and quality in each step of the product life cycle while taking care of the environment. All aspects of sustainability - social, economic and environmental - are carefully considered in the whole product life cycle. Sustainability is entwined in the whole process from R&D through manufacturing, including patient use and the disposal of old inhalers.
You can download the Orion Sustainability Report 2020 here
Adverse events should be reported. Reporting forms and information can be found at www.mhra.gov.uk/yellowcard. Adverse events should also be reported to Orion Pharma (UK) Ltd on 01635 520300.