Recipes for balance and well-being
Recipes for balance and well-being
Asthma | 4/29/2022
Sara La Fountain, an internationally renowned chef, shares her philosophy for using food as a source of inspiration, enjoyment, and overall well-being.
La Fountain may be best known as a celebrity chef, but she has plenty of other tools in her toolbelt, including cookbook author, food concept creator, recipe developer and restaurateur. The rich experience she has gained as a player in the gastronomic arena has taught La Fountain to see food in a different light than she did in her earlier years.
"When I was younger, I was a bit stricter with my diet. But when I entered the culinary field, I began to think more of food as the fuel we need to function, use our brains, and exercise. Once I got to about 20 years old, I no longer wanted to count calories – I just ate good stuff. That really changed my outlook on what makes food healthy."
"If you exercise and you do a lot of brainwork that requires focus, you need good food to keep you going and feeling energized," La Fountain says. She also notes that eating poorly or eliminating too many calories from our diets can have negative effects in the long run.
"It really should be about balance," La Fountain says.


Healthy eating for asthma
Finding the right balance is an insight that Kirsi Englund, Lead Nutritionist for the Helsinki Capital Region at Terveystalo, Finland's largest private healthcare provider, fully supports when it comes to developing healthy eating habits.
"It's wise to keep our overall diets in mind, so that we consume enough calories to compensate for our energy expenditure. It's so much about the effect of the total diet rather than certain food ingredients as such."
"Another thing we know is that in asthma, it's good for overall health and symptom prevention if we keep up the body's own immunity defenses. If the immunity is weakened for some reason, then we usually get more respiratory tract infections, and those of course make asthma worse," Englund points out.
La Fountain has not experienced asthma herself, but she recalls her worry when a close friend developed the condition as an adult. She was relieved to see how much of a difference taking medication and switching to a more wholesome diet made in managing their symptoms.
"It's amazing how much better you can feel just by starting to eat in a healthier and more well-balanced way. You can minimize negative symptoms but also feel stronger and more energetic," La Fountain notes.
"You might have to start with baby steps before you can run and grow stronger," she continues.



Kirsi Englund Lead Nutritionist for the Helsinki Capital Region at Terveystalo
Food can be both great tasting and good for you
For La Fountain, part of the joy of cooking and enjoying food comes from exploring and experimenting with different tastes, textures, and ingredients.
"For me, and I think, also for a lot of people, it can seem a bit challenging to make healthy food taste good, but it's doable. Personally, I love that task. I find it fascinating to play with flavors, so that it all tastes good. I love to use a lot of vegetables and have them as the basis," reveals La Fountain.
According to Englund, vegetables and other natural, plant-based foods are an excellent foundation for a healthy and sustainable diet.
"A variety of vegetables, and fruits and berries are crucial because they supply us with micronutrients called phytochemicals, which have beneficial effects on our bodies and immune systems. A basic rule of thumb for getting a lot of polyphenols in our diets is to eat as much colorful foods as possible," Englund says.
"Dark colors in fruit, berries, vegetables, indicate that there are a lot of polyphenols in them. These micronutrients that are found in plants protect our cells from oxidative stress," says Englund.
"It's also important to get enough protein. These are needed in the leukocytes, also called white blood cells, or the defense cells in our bodies. Carbohydrates are vital as well for our bodies to keep up their natural defense mechanisms."
"Each day, our brains use about 140 grams of glucose, which is the smallest carbohydrate molecule. Our red blood cells also need carbs, they cannot use fat or protein as an energy source," Englund emphasizes.
Beyond physical nourishment
It's in times of stress, such as the coronavirus pandemic, that La Fountain believes we really need comfort, and thus, tend to seek out the soothing sensations we get from foods and the memories and feelings we associate with them.
"Your grandmother may have baked some beautiful cookies, or it might be a meatloaf or a pasta you remember eating in childhood. It all depends on what makes you or your family feel cozy and warm."
"We all need to have yummy moments. Life would be nothing without them! I'm not saying we should indulge every day, but without pleasure and enjoyment, life simply wouldn't be the same."
"Just because you have asthma doesn't mean you can't have fun and enjoy life. We all need to take care of ourselves, love ourselves, and treat ourselves as valuable assets. To me, that means making sure we get the vitamins and the nutrients we need, even if we have busy lives," La Fountain concludes.
Here are some of La Fountain's recipes for food as fuel for a healthy and balanced brain and body:

Fresh health smoothie
2-3 dl plain soy or oat yogurt
2 dl oat, soy, or almond milk
1- 1,5 dl pure sea buckthorn juice
1 tsp grated ginger
1 dl frozen or fresh strawberries
1/2 dl frozen mango
1/2 dl mixed frozen berries
1 banana
1/2 tsp vanilla extract
protein powder in your desired amount
fresh mint


Add all ingredients to a blender or mixer. Blend until smooth and enjoy.
Approximately 2-3 servings.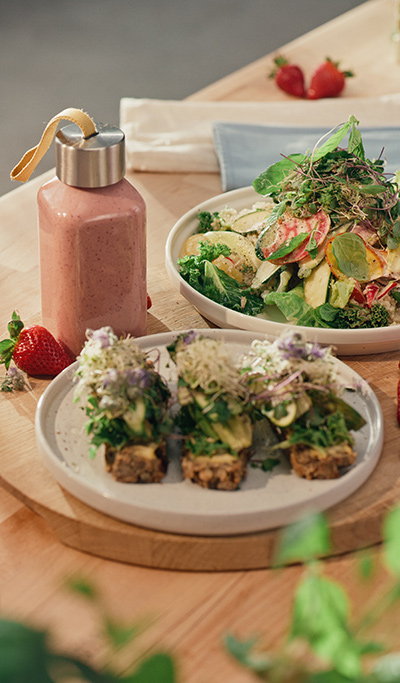 Perk up shot
2 dl sea buckthorn juice
1dl carrot juice
1dl apple juice
3-4 tsp grated ginger
a piece of fresh turmeric
1/2 lime juice
2 tbsp olive oil
A pinch of chili
A pinch of black pepper


Place all ingredients in a blender and mix until smooth. Serve from a shot glass or add some ice and serve in a tall glass. Approximately 4-7 servings.
Omega salad, serves two people
1 head of romaine lettuce
1 bag of salad mix
1-2 striped beetroots peeled and thinly sliced
1-2 carrots, peeled and thinly sliced
1/2 cucumber, thinly sliced
1/2 zucchini, thinly sliced
100 g cherry tomatoes halved
25g radishes thinly sliced


150-200g salmon, in two servings
2-3dl quinoa


4 tbsp seed mix (pumpkin and sunflower seeds)
3-4 tbsp olive oil
2 limes
1 bunch of basil or mixed herbs of your choice
Salad dressing for Omega salad
1 dl oat fraiche
3 tbsp light mayonnaise
3 tbsp grated parmesan
1tsp lime juice
pinch of salt
pinch of black pepper
pinch of sugar or some honey
First cut the beetroot, carrots, zucchini, radishes, and cucumber into thin slices and put them in a big bowl. Season with olive oil, lime, and a pinch of salt and black pepper and let sit for a while.
Next, boil approximately 2-3 dl of quinoa in water until done. Rinse and drain the boiled quinoa, then add some olive oil, grated lime zest and a pinch of salt and black pepper. Add 2-3 tbsp of fresh shredded mint.
Prepare the dressing next. Mix all ingredients in a bowl until well combined, then set aside.
Now cook the salmon. Coat the piece or pieces of salmon with seeds and fry both sides in a pan with some olive oil for approximately 3 minutes. If the pieces are thick, you can cook the salmon further in a 180°C oven for about 5 to 8 minutes.
Finally, assemble the salad. Add cherry tomatoes and dressing to marinated vegetables, mix well so that the vegetables and dressing are well combined.
Assemble on a plate: romaine salad and salad mix, boiled quinoa, marinated vegetables, and fried salmon. Garnish the salad with herbs and enjoy.
Healthy seed bread
3,5 dl nuts and seeds, such as almonds, cashews, pistachios, hazelnuts, pumpkin seeds and sunflower seeds
3,5 dl gluten-free oat flakes
1 dl linseeds or flaxseeds
2 tbsp chia seeds
3 tbsp psyllium powder
1 tsp sea salt or Himalayan salt
1 tbsp honey or agave
3 tbsp virgin coconut oil, melted
3,5 dl water
Combine dry ingredients. In another bowl, combine virgin coconut oil, honey, and water. Add the liquid to the dry ingredients and continue to mix until smooth. If the texture is too thick, add water one spoonful at a time.
Pour the dough into a long loaf pan and smoothen the surface by patting. Let the dough sit for a few hours.
Heat the oven to 175 degrees. Set the loaf pan on a rack in the middle of the oven and bake for 20 minutes. Take the bread out of the oven, turn the bread out onto a rack and bake for another 30-40 minutes.
Tip: The bread stays fresh in a closed container at room temperature for about five days. If frozen, the sliced bread can easily be reheated in a toaster in single servings.

Serving suggestion:
1 tub of hummus
1 bunch kale
2 avocados, sliced
1/2 zucchini, thinly sliced
1 packet of sprouts
herbs
honey flowers or other edible flowers
olive oil
a pinch of black pepper
a pinch of salt
On a slice of bread, spread hummus, then add kale, avocado slices, and zucchini slices. Garnish with sprouts and herbs and edible flowers. Finally, season with olive oil, a pinch of salt and black pepper and enjoy.
References:
Beuther DA, Sutherland ER. Overweight, obesity, and incident asthma: a meta-analysis of prospective epidemiologic studies. Am J Respir Crit Care Med 2007;175:661-6
Huovinen E, Kaprio J, Koskenvuo M. Factors associated to lifestyle and risk of adult onset asthma. Respir Med 2003;97:273-80
Kilpeläinen M, Terho EO, Helenius H ym. Body mass index and physical activity in relation to asthma and atopic diseases in young adults. Respir Med 2006;100:1518-25
Uddenfeldt M, Janson C, Lampa E ym. High BMI is related to higher incidence of asthma, while a fish and fruit diet is related to a lower- Results from a long-term follow-up study of three age groups in Sweden. Respir Med 2010;104:972-80
---
Orion Corporation is a globally operating Finnish pharmaceutical company. We develop, manufacture and market human and veterinary pharmaceuticals and active pharmaceutical ingredients. The dry powder inhaler developed at Orion is in the core of our respiratory therapy area.