Cleaning tips which prevent asthma symptoms
Cleaning tips which prevent asthma symptoms
Health | 4/9/2019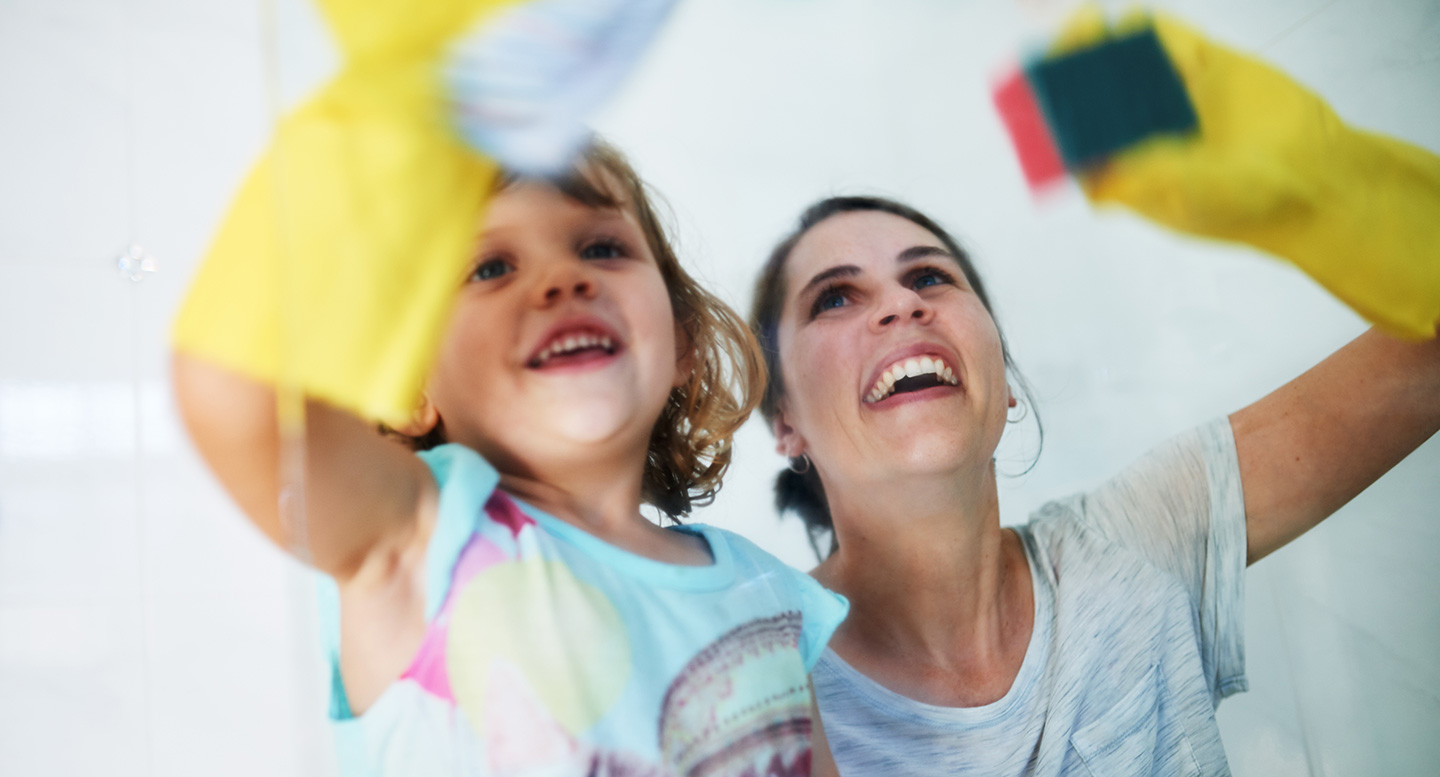 Are you allergic to housework? If you have asthma or COPD, then you might already know that keeping your home clean helps you breathe easier. But paradoxically it's the cleaning itself that might also cause irritation in your lungs.
Hooray, spring is in the air! But boohoo, the bright sun burns through dirty windows, unmasking the winter grime on walls and floors and fingering the dust motes that float through the air. It's definitely time to dive into some deep cleaning.
But for some of us, it's not that simple. Allergens hidden around the house are potential asthma triggers. Invisible dust mites buried in sofas, beds and carpets are the obvious ones. A humid climate can also bring mould spores that lurk in our bathrooms and other damp places. And we all love our pets but they've been indoors a lot during winter, planting dander into the soft furnishings.
A thorough clean can eliminate allergens and help keep new ones from entering. But how can we make cleaning safe and asthma-free?
Chemicals or DIY products?
Cleaning agents and scented room fresheners that contain volatile organic compounds, known as VoCs, are often linked to asthma. Yet there's little solid research evidence on the topic. Everybody's own experience is the best guide here, as according to Asthma UK, some asthmatics have reported that VoCs seem to irritate their airways. Similarly, strong smells, disinfectants such as bleach or ammonia, or a frequent and long-term use of cleaning sprays, can trigger symptoms in some people.
For a normal household cleaning, there's no need to panic about every chemical choice. By simply testing different options, you can find out which products work best for you and for your household.
There are many good arguments for going back to plain old soap and water, or seeking so called DIY – do-it-yourself – recipes using vinegar, lemon juice and baking powder, all combined with some good old-fashioned elbow grease. You can also opt for certified green products. They're better for our environment, too. You may want to look out for labels like VoC-free, fragrance-free, allergy friendly, and child and pet friendly. For example, fragrance-free cleaning products are good for everyone.
Getting down to the job
Less is more, when it comes to measuring quantities. When possible, use liquids or creams instead of sprays to lower the possibility of breathing in excess chemical fumes.
While you clean, maximise the ventilation in your house or apartment. You may also want to wear gloves and a cloth mask for extra protection if you have noticed that your lungs get irritated during cleaning.
There are also vacuum cleaners on the market especially designed for asthmatics that you might want to look into. If you're planning on tackling a dust trap like a large attic or cellar, you could get a friend or family member to vacuum first and help clear the way for you.
Caring for yourself and your home
Rome wasn't built in a day nor does your house need to be cleaned in one day. The best approach is to try to keep your home clean throughout the year – and the same goes for your lung care.
The key to good asthma management and easy breathing while cleaning is making your asthma care a daily habit. If your asthma is in good control with a regular controller medication, even an extensive cleaning project shouldn't be too much for your lungs.
This article was compiled with expert input from Kaisa Toikko, expert at the Finnish Allergy, Skin and Asthma Federation.
By Laurel Colless
Photo by iStock
References:
Bello, A., Quinn, M. M., Perry, M. J., & Milton, D. K. (2010). Quantitative assessment of airborne exposures generated during common cleaning tasks: a pilot study. Environmental health: a global access science source, 9, 76.
Nicole Le Moual, Raphaelle Varraso, Valérie Siroux, Orianne Dumas, Rachel Nadif, Isabelle Pin, Jan-Paul Zock, Francine Kauffmann, Domestic use of cleaning sprays and asthma activity in females. European Respiratory Journal Dec 2012, 40 (6) 1381-1389.
Carole Ederle, Carole Donnay, Naji Khayath, Marie Mielcarek, Frederic de Blay. Asthma and Cleaning: What's New? Current Treatment Options in Allergy. March 2018, Volume 5, Issue 1, pp 29–40.
Asthma UK, Indoor environment asthma triggers


---
Orion invests in research and development of treatment options for people with asthma and COPD while also developing the design and usability of the Easyhaler® inhaler device platform. The focus is on safety and quality in each step of the product life cycle while taking care of the environment. All aspects of sustainability - social, economic and environmental - are carefully considered in the whole product life cycle. Sustainability is entwined in the whole process from R&D through manufacturing, including patient use and the disposal of old inhalers.